The Team

"None of us is as smart as all of us." – Ken Blanchard: an American author and management expert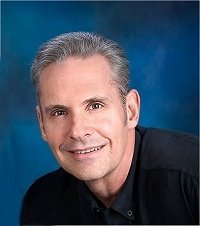 Tom Slaughter is the Owner of Earth Oasis Computers.
Tom has been an entrepreneur since his first paper route with the Pasadena Star News at the age of 12. In the 1980's, Tom ran an automotive repair shop in La Cañada Flintridge where he was an ASE certified automotive technician. During that time, he found personal computing to be beneficial in serving his inventory and payroll needs.
————————-
In the early 1990's Tom was a Snap-On Tools Dealer. Tom was one of the first dealers in the country to have a portable computer on his Snap-On Tool truck.
Tom Has Been Working with Computers for Over 30 Years
Along the way, Tom learned how important it was to understand the inner workings of personal computers. He learned how to build them, repair them and share his knowledge of them in simple terms.
————————-
COMPUTER BUSINESS
In the late 1990's Tom realized everyone would soon have a personal computer and decided to turn his hobby into a business. Tom became a computer expert to many local residents. His knowledge of personal computing is vast and includes hardware and software setup, repair and tutorials. Tom is also our networking expert and has personally built hundreds of computers to meet the personal and business needs of the local community.
CUSTOMER SERVICE
Tom has a deep commitment to customer service, which he often attributes to being a Boy Scout. Tom loves to recite the twelve points of the Scout Law, which are that a boy scout is: Trustworthy, Loyal, Helpful, Friendly, Courteous, Kind, Obedient, Cheerful, Thrifty, Brave, Clean & Reverent. How is that for a good motto to run a business by?
COMMUNITY
Tom has been an active member of the Kiwanis Club of La Cañada since 1999, is a member of the La Cañada Flintridge Chamber of Commerce and was a Technology Review & Advisory Committee Member for the La Cañada Unified School District during a time they were upgrading their technology. A lifelong Boy Scout, Tom was also an assistant scoutmaster in La Canada Flintridge BSA Troop 502 for many years.
PERSONAL
Tom enjoys outdoor activities including hiking, backpacking, scuba diving and snow skiing. Tom also enjoys those things many of us enjoy like dining out, movies, music and concerts, car trips, performing arts, travel, volunteering, etc.
Tom is also a licensed private pilot.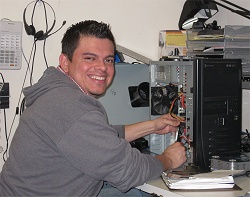 Andy Crespin is a Technical Support Specialist.
Andy graduated from North Hollywood High School in 1994. He earned an associates degree in IT (Information Technology) from Platt College, Los Angeles in  2001. Andy joined Earth Oasis Computers in August of 2005. Andy is our Laptop repair expert and can be seen in this photo building a new mini-tower for a client.
Andy Has Been Working with Computers for Over 15 Years
COMPUTER BUSINESS
Among other things, Andy is our Laptop repair expert. With many small parts, one needs to be very careful taking apart laptops, as it's very easy to break something. Andy has the knowledge and patience to get the job done.
CUSTOMER SERVICE
Andy enjoys talking sports with many of our clients. Andy can often be found in our shop working on computers till very late in the evening, with a ball game of some kind playing on one of our two big screen TVs.
PERSONAL
Andy enjoys sports of all kinds, with football being his favorite, and car trips with his friends. Andy speaks English and Spanish.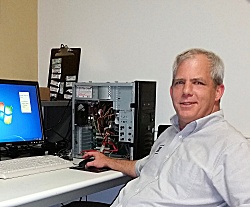 Greg Bell is a Technical Support Specialist.
Greg is a 20+ year veteran of the US Army and the California Army National Guard, where he was a platoon sergeant. Greg served 2 tours of duty in Iraq, one during Operation Iraqi Freedom in 2004 and later from March 2008 to September 2009.
When not on active duty during his time in the National Guard, Greg has been working in the computer support field. Greg has over 17 years experience in the support of Windows PCs, Macs and other technology devices. He also has more than 20 years practical experience in personnel management and leadership in the military.
Greg Has Been Working with Computers for Over 25 Years
COMPUTER BUSINESS

Greg is an A+ certified IT Technician. A+ certification is given by the Computer Technology Industry Association. Having an A+ certification proves that you have a broad base of knowledge and competency in core hardware and operating system technologies including installation, configuration, diagnosing, preventive maintenance and basic networking.
CUSTOMER SERVICE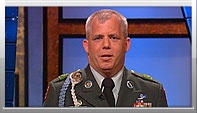 One of Greg's claims to fame is that he was a contestant on Jeopardy! Having acquitted himself well on the game show Jeopardy, Greg has proven he has the gift of a "Jeopardy Brain." What that means, is Greg can converse with you on almost any topic you can think of. Greg is very outgoing and aims to deliver great service. In his first week on the job with us, he even made an evening house call to Huntington Memorial Hospital to get a client's laptop working on the hospital's WiFi, a task the hospital staff was unable to accomplish for some reason. Now that's customer service!!
COMMUNITY
Serving our country for more than 20+ years in the armed services more than qualifies Greg as someone committed to community service. Please thank Greg for his service to our county when you see him. In addition, please donate to Wounded Warrior Project, one of our most important charities.
PERSONAL
During his off time, Greg enjoys hiking, backpacking, scuba diving and travel.