LocalPros

"Be a yardstick of quality. Some people aren't used to an environment where excellence is expected." — Steve Jobs: was an American inventor and businessman
We are fortunate in our line of work to get to know many of our clients very well. On this page, we would like to take the opportunity to highlight and share with you some of the people and businesses we do work for.
Flintridge Family Chiropractic
La Cañada Flintridge

Dr. Rion Zimmerman and Dr. Michael Shahbazian are the proprietors of this establishment. We invite you to visit their Facebook page, where you will discover that these guys really enjoy what they are doing. Earth Oasis Computers has been privileged to be their tech guys for many years now. You can visit their website at: flintridgefamilychiropractic.com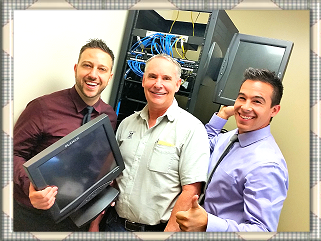 Sky Sprowles – Publisher of
La Cañada Flintridge Neighbors Magazine
Sky, who lives in beautiful La Cañada Flintridge, is no stranger to our town and the local businesses. A while back he was even the executive director of the La Cañada Flintridge Chamber of Commerce. Tom and Sky are both members of the Kiwanis Club of La Cañada. Earth Oasis Computers is a proud advertiser in his magazine and Tom is a regular contributor with his "Tech Talk with Tom" articles.